TECHNOLOGY
The Benefits of Technology for Patients
Schedule an appointment and enjoy a
special rate for opening a file!
Exclusive Offer*
Open a file in one of our three ExpertDent clinics and receive a discount of $20 using the promo code:
PROMO CODE : EXPERTPROMO
<
Schedule now for an appointment
Did you know?
that technology is actually in the patient's favour since it provides treatments that:
Take less time and allow shorter
appointments that saves time and
money for the patient
Cause less discomfort
Provide a more precise diagnosis
Comply with the aseptic technique and standards
Here are a few examples of
technology used
in our clinics: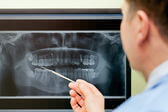 Digital X-Rays
Dental x-rays are vital tools for a dentist in order to detect cavities, observe bone level, and identify the presence of abscesses, tumors, or cysts. We are proud to be part of the era of digital x-ray that decreases up to 75% of radiation transmitted to our patients.
CEREC
Thanks to CEREC technology, we offer our patients ceramic crowns for the reconstruction of their teeth in a single appointment with the help of an optimal scanner (camera). Finally, an end to uncomfortable impressions!